Only One Stock Investment Strategy Can Help You Gain Good Returns In 2023
Only One Stock Investment Strategy Can Help You Gain Good Returns, Investment, stock investment, stock price, price, stock portfolio, swing trading strategy
If you are investing or trading in stocks, then you must have experienced a downfall in stock price once you buy it. And the moment you sell the stock, the price touches the sky. Then you start grieving your decision to sell. The thought that comes to the mind is, "Kash kuchh der aur wait kar Liya hota".
No one can predict the high or low and no one wants their stock portfolio in red color. I am sure you must have gone through numerous videos on YouTube regarding investment strategy using different indicators like moving average, supertrend, RSI, Bollinger bands, advanced VWAP, etc.
But what if I tell you that you need not follow any of the indicators and follow a simple strategy to gain profits in long-run. The only application required to track the stock price is the tradingview. 
Trading strategy
Just follow these simple steps to find the right stock and the right time of investment and trading:
1. Bluechip companies or trending stocks
The first thing you have to do is to identify the blue-chip companies or the stocks that have had rising trends since inception. 
Some of the stocks are Reliance, Hindustan Unilever, Astec, Titan, ICICI Bank, Dabur, Tata consumers, etc.
To identify trending stocks, open the chart in a monthly (M) view. I have attached the monthly chart of HDFC.
Finalize a list of 10 to 20 stocks because it would be easy for you to track the price movement on daily basis.
2. Spot the lows for buying
After finalizing the watchlist, check the daily stock up and down. The market moves in both directions. If there is an up trend for a few days then it will definitely follow a downward trend for the next few days. This happens because the market corrects after every few days, months, or years.
For this, you have to open the charts in daily (D) view and track a minimum of 4 red candles in a group. In the below chart of Grasim, I have highlighted the purchase points.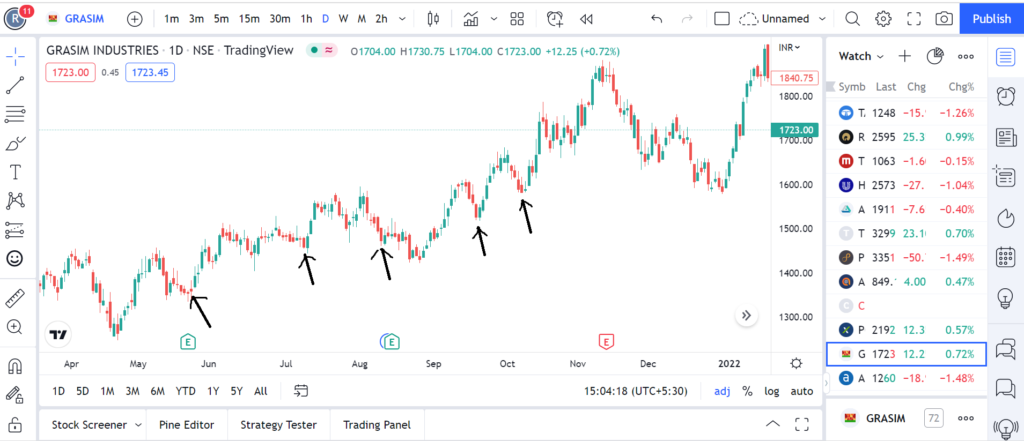 Now if you buy at a marked point, you can easily gain up to 9% in the next 6 trading days.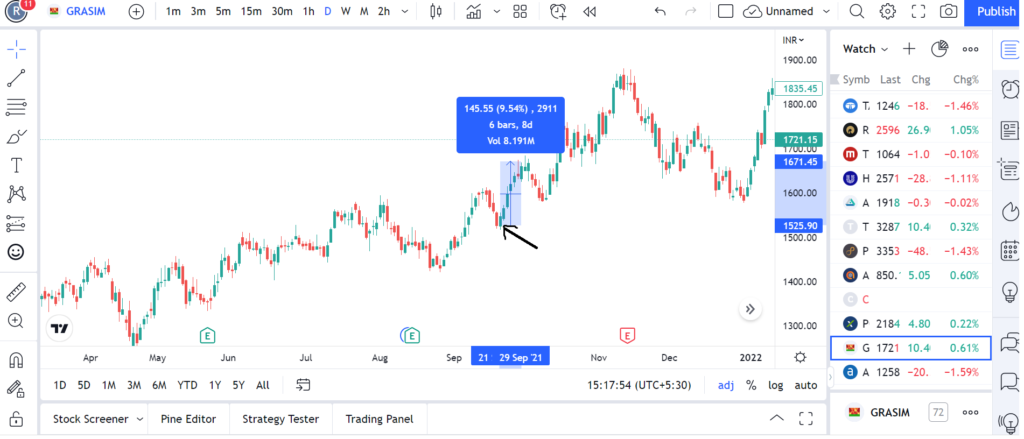 Assume if the market further decreases, then you have to wait for a few months to get a similar return.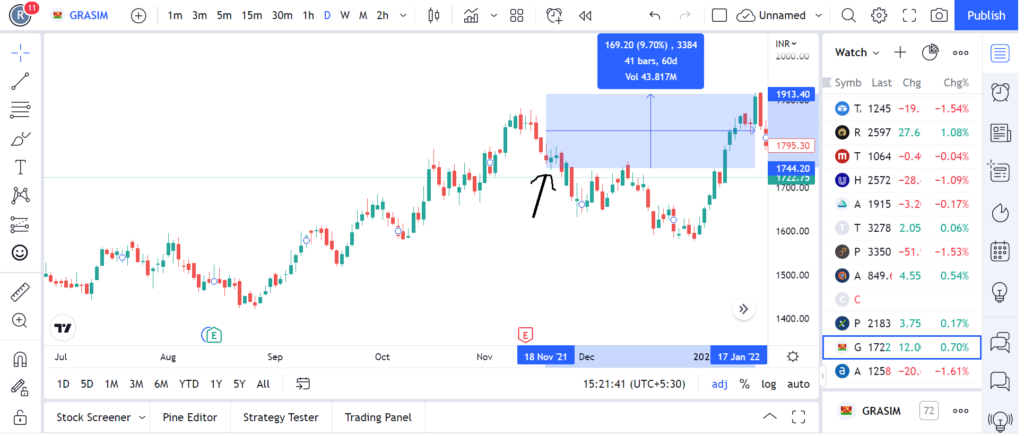 3. Sell the stock once it touches 7% or more return
Once the investment gives more than 7%, sell the stock and buy again in the dip. Don't wait for big profits because ups and downs are continuous.
Advice to beginners
1. Don't fall into the trap of trading tips. If you will be profitable on one day then you are going to lose the next day, until you have a good destiny.
2. Don't invest more than 30% of your savings. Equally, divide into other modes of investment where there is the least risk. 
3. Don't follow the trading tips of your friends if they are earning significant returns. You never know at what point and on what day they entered.
4. Calculate the risk you can take if the stock is in loss and you need immediate funds.
Pro tip: Invest when the market crashes, you will get huge returns after recovery.
Best trading platform
If you want to open a trading account, then you can go with Upstox. Upstox is certified by the market regulator. The account opening procedure is seamless and you will get quality customer service. You can apply for IPOs and mutual funds from the same trading account.
The link is provided if you want to open the account.
Disclaimer: If you want to invest in the stock market, you should consult your financial advisor before making a buying decision. You should assess the risk and study the company details.
Also read:
Power Finance Corporation Share Price Target 2023, 2025, 2030, 2035, 2040
Manappuram Finance Limited Share Price Target 2023, 2025, 2030, 2035, 2040
Tata Power share price target 2023, 2024, 2025, and 2030
Apple Inc Share Price Target 2023 to 2030
IRCTC share price target 2023, 2024, 2025, and 2030
LIC Share Price Target 2023, 2024, 2025 and 2030
HDFC Ltd. Share Price Target 2025, 2030, 2035
Frequently asked questions
Can I have multiple stock trading or demat accounts?
Can a stock trading account be opened for minors?
Can I track charts from another platform?
Yes, you can track the charts from the demat account you opened with any of the brokers.
Disclaimer: This article is for knowledge only. You have to do your own research before investing.
Related searches:
Things to consider before investing in physical gold or digital gold in 2022
Why small finance banks are good for investment in 2022?
Why credit cards are better than cash or debit cards?
5 best uses of e insurance account
Follow for more updates
Follow Raveen Chawla on Medium
For related searches, click Articles, click Web-stories