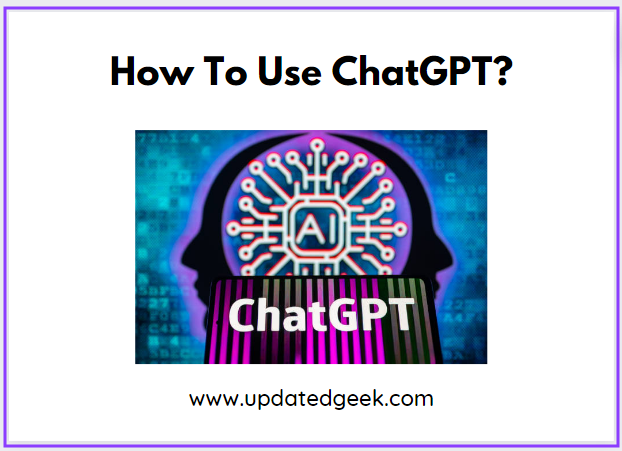 4 mins read
Using chatGPT is easy and people of all categories can easily use the program as the interface is user-friendly. All you have to do is type your query in the text box and the chatGPT will present the solution to your query. In this article, I will provide the detailed steps on how to use ChatGPT.
ChatGPT stands out as a powerful tool for successful communication and skilled problem-solving in today's age of freely available information and support. ChatGPT, created by OpenAI, is a powerful AI language model precisely developed to grasp and respond to natural language inquiries, making it a versatile and necessary asset for solving a wide range of activities.
How to register on an OpenAI account?
To use chatGPT, you must register on OpenAI account. If you have already created an account, then you can use chatGPT directly. If you do not have an account, then you must register on it. You will have an option to log in through Google or Microsoft account.
If you have any other email ID then you can enter it manually. Once you provide an email, you will be prompted to provide a phone number. Avoid giving a virtual phone number because you will receive a confirmation number on your phone number to complete the registration process.
After successful registration, you will see some housekeeping rules on the screen, along with potential errors in data, the way the data is gathered by OpenAI, way to submit feedback.
Also read:
What is ChatGPT? History, Features, Uses, Benefits, Drawbacks 2023
How to use chatGPT?
After successful account creation, you will see an interface like this on your screen.
The left side of the screen will include an option to start a new chat and below it you will see the queries you have entered.
The main portion of the screen will show some of the examples, capabilities, and limitations.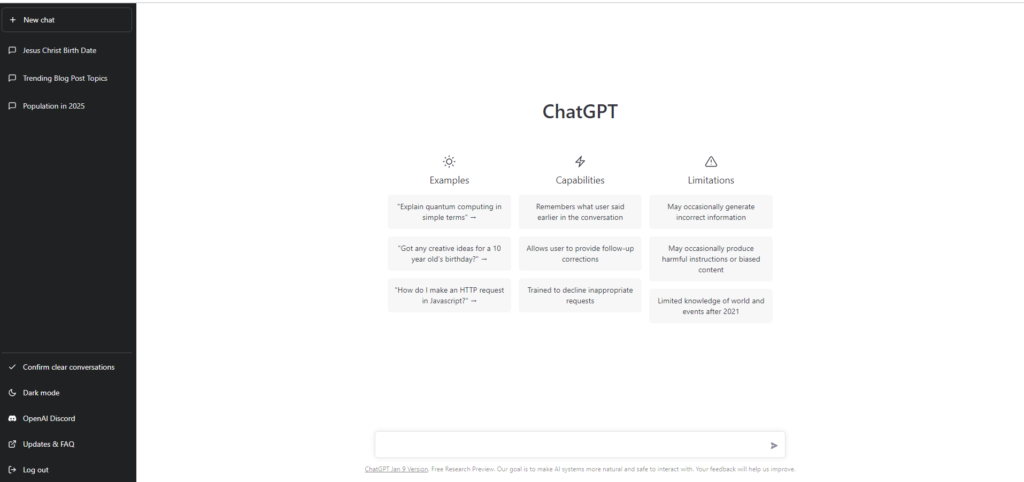 Below that, you will see an input bar with an arrow pointing to the right side at the right side of the bar.
You are simply required to write down your query and then press enter.
I posted a query regarding the birth of Jesus Christ and the answer provided by the program is shown in the below picture.
Also read:
Can ChatGPT Predict The Future? – 6 Amazing Questions About Future
Can ChatGPT Answer Everything?
Is chatGPT free?
To date, chatGPT is free and you can use it straight away from the OpenAI website. OpenAI has mentioned that the program is still in the feedback stage. The objective of making the service free is to get as many people as possible to use the bot.
Also read:
Should ChatGPT Be Banned In Schools And Colleges?
How ChatGPT Can Help You Make Money In 4 Ways
How are people using chatGPT?
People are using chatGPT in multiple ways to make their tasks easy to do. Students are using chatGPT to do their homework and assignments. Bloggers are using chatGPT to prepare blog posts or articles to publish on their blogs. Scriptwriters are using chatGPT to prepare scripts for books or moving. Salespeople have been using chatGPT to prepare emails to be sent to potential clients. Health-conscious people have been using chatGPT to prepare diet plans based on their requirements. Coders are using chatGPT to write down code in various languages.
Also read:
Can ChatGPT Be Detected For Plagiarism?
How to use chatGPT to write a resume?
You just have to give an instruction to chatGPT to prepare a resume format. Once the format is ready, you just have to copy and paste the content into a Word file and change the particulars as per your details, like name, education, experience, skills, etc.
Frequently asked questions
What is chatGPT?
ChatGPT is the chatbot created by OpenAI in November 2022. It is created on top of OpenAI's GPT-3.5 family of big language models and is fine-tuned with reinforcement learning and supervised techniques.
What is chatGPT for?
ChatGPT is for providing readymade solutions to your queries in the way you have requested.
Related searches
Best ChatGPT Alternatives You Can Explore In 2023
How ChatGPT Reached 1 Million Users In 5 Days
Follow for more updates
Follow Raveen Chawla on Medium
For related searches, click Articles, click Web-stories